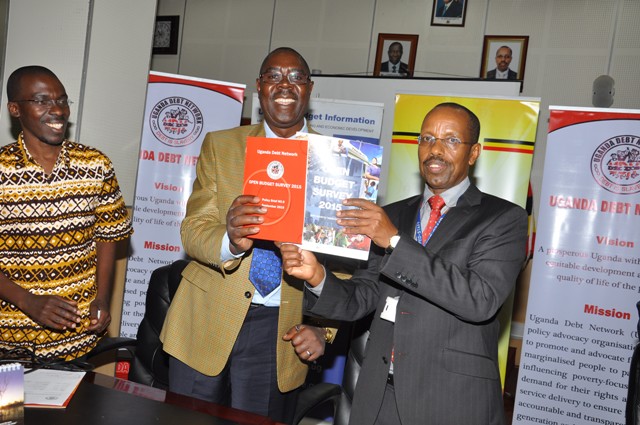 Simply put, transparency is honesty in all dealings while accountability is taking responsibility, explaining and justifying one's actions. The two are inevitable in any meaningful discourse pertaining our country's development agenda. It therefore follows that effective national planning must be in the interest of all citizens but also highlight the importance of monitoring, transparency and accountability as key components of good governance. 
Cognizant of the importance of citizen participation in their development, Government has actively engaged the public particularly in the national budget process and indeed Uganda scooped second position in Africa in the Open Budget Index (OBI) survey 2015. The budget consultative meetings with the citizens and the budget website created by the Ministry of Finance inter alia indicate progress, despite related challenges like inability of most citizens especially in rural areas to access internet.  
As a key tool in the planning process, the national budget gives projections of the country's income and expenditure annually to enable the planning process. The National Development Plan (NDP) II, which is expected to propel Uganda to middle income status in the next 3 years prioritizes investment in five areas which include infrastructure development and agriculture. The NDP II states: "…as a major sector in the economy, the NDPII emphasizes commercialization of agriculture, to increase production and productivity along the value chains.
It emphasizes agro processing and marketing as a launch path to industrialization." How ironic that this 'major' sector has consistently been allocated one of the smallest share of the national budget, with 3.9 percent in FY 2017/18. We cannot therefore talk about middle income status by 2020 when we are oblivious to the fact that proper planning means aligning national budgets to the NDP.  On the other hand, infrastructure development which has constantly taken the lion's share of the national budget over the past five years is still leading with a whopping 21 percent in FY 2017/18 of the total 29 trillion shilling budget.
Despite giving such high importance to the sector, Government has failed to match it with the commensurate level of monitoring and evaluation. This has cost the country a substantial amount of resources in terms of money and time.  For instance over 4 trillion shillings was misappropriated under UNRA during the seven years preceding 2016 as revealed by the Justice Bamugemereire Commission of inquiry in 2016.  This amount is the equivalent of one year's highest budget allocation (UGX4 trillion to infrastructure in FY 2017/18).
The weak accountability institutions and limited oversight as well as absence of political will to squarely deal with the corrupt are all responsible for such practices. With the domestic revenues estimated at only UGX15 trillion in FY 2017/18 yet external debt continues to rise, currently at UGX32 trillion from  UGX29 trillion in June 2016 according to Bank of Uganda statistics, Government must be frugal and stringent on how these resources are spent.
Unless monitoring and accountability for public resources is strengthened, Uganda will have no return on investments to cater to the rising public debt which will unfortunately spill over to the ordinary taxpayer. Uganda must draw lessons from past experiences to inform future planning.
Our desire to achieve growth and development is undoubted but our efforts towards the development path are decelerated because we have failed to strengthen transparency and accountability in the utilization of public resources. It is our obligation as citizens to take keen interest in our governance, this calls for constantly monitoring and demanding accountability for public resources which helps us identify injustices and take corrective action in time.  
Christine .B. Ayebazibwe,Uganda Debt Network.