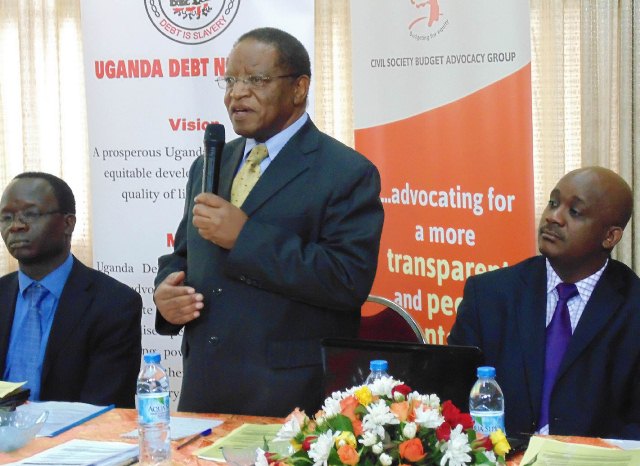 Strategic Objective 1:
To enhance the capacity of citizens and civic organizations to influence public debt and development frameworks at local, national and international levels
In the context of the changing nature of the global debt architecture, UDN contends that it is critical to look at all aspects of debt including definition, structure, rate of acquisition versus utilization capacities and their implication for Uganda's policy tradeoffs and macroeconomic measure options. Moreover, these aspects should also be coupled with debt servicing obligations and service delivery outcomes in respect to economic performance and transformation by a given country. UDN was a critical player when Uganda became debt-compliant only after massive debt write-offs under HIPC in 1990s and MDRI after 2005.
Whereas Uganda's current debt sustainability indicators are said to be manageable, UDN will ensure that under SAPP 2017-2021, there is specific focus on the country's increasing public debt while, at the same time, performance capacity, unproductive debt and desired outcomes remain a challenge mainly to the economy and taxpayers. Yet the current trends in public debt accumulation are likely to degrade Uganda's creditworthiness in the short, medium and long terms, with a risk of undermining the macro-economic and associate micro development levels, while worsening the country's debt portfolio and compromising the political and socio-economic gains made so far.
To this end, UDN's imperative is to interrogate the resultant effects of such trends in debt management (acquisition, utilization, accountability and debt repayment) in consideration of opportunity cost in service delivery, local accountability and welfare of the intended recipients of debt in Uganda. UDN will also scratch beyond the narrow range of parameters for debt status and sustainability, to include instruments like all a) debt securities b) loans c) insurance c) pension d) standardized guarantee schemes; and e) other accounts payable.
The UDN intention is to support the country from re-occurrence of a possible underlying debt crisis now and in future, given the implication of debt for Uganda's economic choices and fiscal space.
Key Results/ Outcomes
Result Area 1: Civil Society influence for accountable and sustainable Domestic, External and publicly acquired Private Debt achieved in Uganda
Result Area 2: Public Resource Management and development paradigms influenced for sustainable development at National, Regional and International levels.
Result Area 3: Programme Management capacity enhanced
1