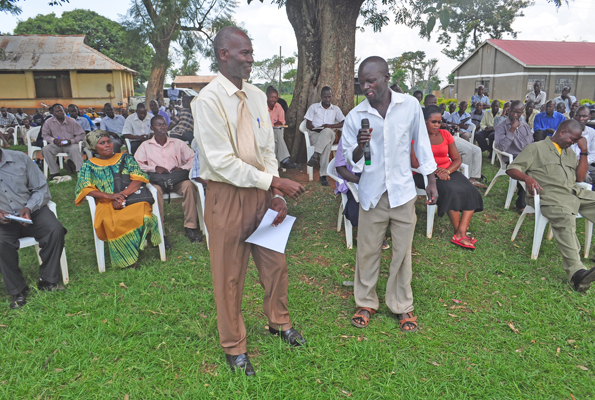 Uganda Debt Network (UDN) participated in a Social Accountability Forum that was organized by World Vision, on 28th September, 2016. This forum brought various actors from Government, Donors, Media, CSOs and Private Sectors together with an aim of creating a platform for sharing experiences, stories of change, and to build synergies between Government Accountability Mechanism and Social Accountability efforts by Non State Actors.
UDN shared her Social Accountability approach called Community Based Monitoring and Evaluation system (CBMES) that aims at stimulating community interest to take charge of their own development process and increase citizen voices. UDN has continued to strengthen her partners and allies to articulate and influence policies at local and national level. The efforts have yielded an effective interface between policy-makers and the communities in promotion of public accountability and improved service delivery.
It is evident that Government through Office of the Prime Minister has become very responsive to the demands of the communities and providing wider forums called the Barazas that bring policy makers, service providers and service users to discuss service delivery concerns and draw strategies for quality service delivery.
Recommendations for an effective social accountability initiative
Active involvement of youth and women in social accountability related issues.
Provide citizens with information related to Government programmes and social services for accountability and as a feedback mechanism.
Citizen monitoring activities should be integrated into economic activities like the Village Saving and Loaning Associations that benefit from them directly.
Proper coordination between the various Social Accountability Actors for synergy building, collaboration and harmonisation of efforts and activities for effective implementation.